I am a mother, creator, artist and collector. My infatuation with gems and minerals began at a young age. I grew up with a geologist father, who fostered my love of gathering sparkly stones. Weekends filled romping through the woods with friends- hiking, fishing, searching for natural wonders. This love of the outdoors and of organic beauty has always stuck with me.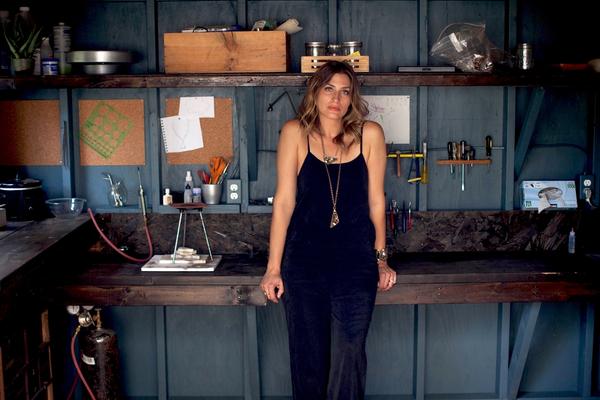 I now live in Nashville, again on the edge of the woods but so close to a community of creative people that inspire me. I worked as a teacher, designer, model, assistant to a local star, event planner, searching again for the right path. As a new mother I had the insatiable desire to create and being something that was mine. That would allow me to spend more time with my children but that also challenged me.
One day I was cleaning out a drawer when I found a collar necklace that was handed down from my mother. The simple yet elegant design was one of my uncle's, a jewelry designer working in Manhattan in the 1970's. The timeless design had always struck a cord in me…but it needed an update.
Days after were spent drilling on a plywood desk with a shower curtain covering the floor trying to re-design and put my signature on his classic creation. Fast forward three years and the line has grown to include cuffs, bracelets, pendants, earrings, lariats and rings, all featuring the signature stone of my line- glittering raw Peruvian pyrite. This stone is hand crafted by local artisans that we have a lasting relationship with and pay a fair working wage.
I'm happy to be able to create something that people love- that makes you feel modern, elegant, timeless. All of my pieces focus on the stones themselves, perfectly made by Mother Nature, showcased by Seraphine Design.